Presentation camping green Ardèche Doux river mobil home Camping de Retourtour - Lamastre 07270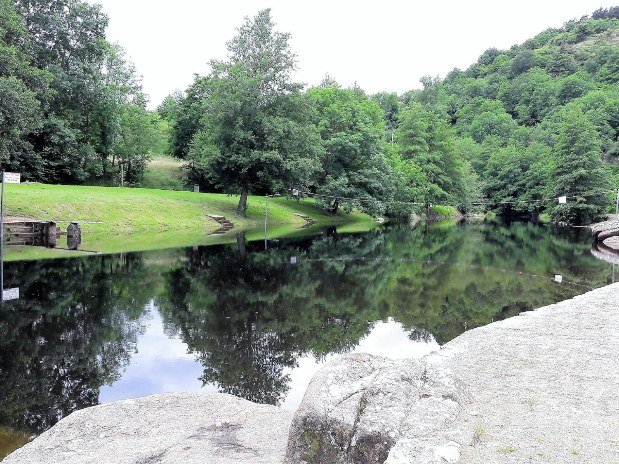 Camping de Retourtour
Whether you are looking for a quiet site or a nice rental, the Camping de Retourtour is the best place to spend your holidays!
Situated between the "Green Ardèche" and "Ardèche Plein Coeur", in the hearth of the Doux Valley, at 1,5 km from the centre of Lamastre
and near the river " the Doux" , less than 100 m from the beautiful natural swimming place of Retourtour, come and discover the charms of our 3-star campsite and its exceptional natural environment.
Enjoy with your family and friends the comfort, the space and the exceptionally high quality of our modern facilities and accommodation,
the rentals of Mobil homes, the large and very well equipped playgrounds.
You could go fishing in the clear waters of the river "The Doux" or in its tributaries, as well as hiking, cycling on the paths across the mountains or on the winding roads, and admire the beauty of the landscapes in the Ardèche.
Young and old will be charmed and delighted by the shared pleasures of their holidays in our peaceful and welcoming campsite.
Nature, Sun on the beach, Relaxation, Leisure activities...
130 large spaces in calm and pleasant surroundings:
Flat and easy to access, all equipped with electricity (with the possibility to choose between 4, 8 or 13 amperes) and water nearby points.

Very modern and comfortable sanitary blocks :
- With mixers (hot water/cold water),
- Individual washbasin and shower rooms,
- Baby changing facilities,
- Laundry,
- Installations for the disabled people.

A service bay for camper vans with water and drainage.
If no availability suits you, here is the address of our associative site for other campings with river in Green Ardèche: www.ardecheverte-campings.com
The camping of Retourtour, classified 3 stars, situated in river bank, in Green .Camping Ardèche in Ardèche, rent in Ardèche in a camping in river bank, rent mobile home in ardeche green, location of campsite
Number of accommodations : 130 = 19 Mobile home, 3 Tithomes, 3 Caravans, 105 locations

Opening


From 4/1/17 to 9/21/17


Spoken languages


Payment methods

Address:
1 Rue de Retourtour
07270 LAMASTRE
FRANCE
Access:
Situated in the South-East of France, in the heart of the Green Ardèche and the Doux Valley, Lamastre, a gate of the Parc Naturel Régional des Monts d'Ardèche, is a dynamic tourist shopping centre.
The sunny climate, at an altitude of 375 metres, will allow you to take full advantage of your holidays in a natural environment and have a change of surroundings and relaxation.
Location:
Distances of:
Tournon / Rhône : 33 km
Valence : 38 km
Le Puy en Velay : 71 km
Saint Etienne : 86 km
Lyon : 123 km
Marseille : 237 km
Paris : 582 km
Amsterdam : 1043 km
Berlin : 1358 km
Londres : 1033 km
GPS Point: E4°564830 - N44°991640.
Wifi

Reception

Disabled access

Pets allowed

Beach

Restaurant

Laundromat

Family Friendly
Table tennis

Volley ball

Football

Badminton

Bike - Mountain bike

Climbing

Kids club

Mini-golf

Petanque

Fitness
Stretch of water nearby opened of in the middle of June at the beginning of September, with awarded a diploma lifeguard and fitted out beaches

Rentals and pitches

Find us
Address
1 Rue de Retourtour 07270 LAMASTRE FRANCE
Presentation camping green Ardèche Doux river mobil home Camping de Retourtour - Lamastre 07270